ATJC Leadership
ATJC Leadership
Rose Rubin, President
Rose Rubin has been a Vice President of the Executive Board of the Aventura Turnberry Jewish Center for the last 15 years. She and her beloved late husband, Richard, have been major benefactors of our synagogue since they joined in 1999. Rose is the daughter of Holocaust survivors, and has worked on all of our Holocaust memorial events, and co-chairs and conducts our annual Yom Hashoa service. Her children, Jason and Lindsey also participate in the service.
___________________________
William W. Landa, Founding Chairman of the Board
Bill was born in Czechoslovakia, and came to the United States in 1951. After having spent two years in the US Army, Bill settled in Spring Valley, New York and immediately got involved in the construction business.
As Founding Chairman, Bill led the congregation of Aventura Turnberry Jewish Center from a small storefront space to our existing state-of-the-art facility. He took his vision of a Center of Excellence in the fast-growing Jewish community of Aventura and, with the help of many other dedicated individuals, made that vision a reality. His dedication and commitment to our Synagogue, School and community has resulted in ATJC achieving national as well as international recognition. Because of the exceptional services and programs that are offered by ATJC, our Center is often visited by world-renowned leaders, scholars, and artists.
___________________________
Alix Wolf, Vice President, Education & Youth
Alix Wolf has been a member of ATJC for over 15 years. She and her husband, Jorge, live in Harbor Islands with their four children: Max, AJ, Benny, and Rebecca. All of her children attended religious school as well as celebrated their B'nai Mitzvots at ATJC. Alix is a strong supporter of BBYO at ATJC's campus, and Hillel International, which is even more meaningful as her son Max is a freshman at USC in Los Angeles. Alix practiced Real Estate law at Hyman & Kaplan, PA before having her children. In addition to her dedication to the Jewish community, Alix has served on the Headmaster's Advisory Board at NSU University School in Davie where her three younger children attend, supports Joe DiMaggio Children's Hospital, and is a member of various community organizations and advocacy groups.
___________________________
Roni Fertig, VP, Membership Engagement
Roni Fertig has her B.A. in Psychology from the State University of New York at Albany and her M.S. in Social Work from Columbia University. She has owned and operated The Nanny Network since 1985, placing professional nannies and other household staff with families nationally. She is a founding member of the International Nanny Association and has served on its Board of Directors. She is the recipient of The Woman of Valor award for her commitment to her synagogue and the Jewish community. She has also served for many years on the Advisory Board for Central Agency for Jewish Education's Florence Melton School of Adult Jewish Learning of Miami.She currently sits on the committee of the North Dade Coalition of Greater Miami Jewish Federation. Ms. Fertig currently serves on the Women's Amutot Initiative of the Greater Miami Jewish Federation since 2005 and participated in a study trip to Israel.
___________________________
Steve Kessler, Vice President, Facilities
Steve is the synagogue's Vice President of Facilities responsible for the maintenance and security of our congregational campus. He is a graduate of Penn State University and a veteran who served in Viet Nam. He is a licensed General Contractor who has been associated with Turnberry Associates since the 1970's and has been responsible for many projects including Turnberry Isle Resort, Hotel and Country Club, Turnberry Isle Yacht Club and the Aventura Mall. He also led efforts for several Turnberry Associates projects in Las Vegas.
___________________________
Richard Kronrad, Vice President, Development
Richard is currently a member of the Florida International University Vice Provost Executive Council. This council raises scholarship monies for first generation students wishing to attend FIU. Sometimes these monies mean the difference as to whether a student gets to stay in college or is forced into the work force directly out of high school. Richard has been a resident of the City of Aventura for the past 23 years. Married with two children and six grandchildren.
___________________________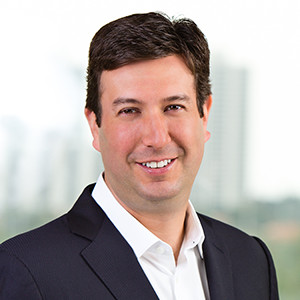 Matthew Adler, Treasurer
Matthew L. Adler is President and Chief Executive Officer of Adler Kawa Real Estate Advisors where he is responsible for the leadership and strategic direction of the business. Matthew founded Adler Kawa in 2012 as an evolution of his family's real estate businesses, the Adler Group which has been investing and operating commercial real estate for over 50 years. Matthew graduated with a bachelor of arts in urban studies from the University of Pennsylvania in 1999. Since 2010, Matthew has served on the Board of Directors and Loan Committee for Miami based Apollo Bank. Matthew serves on numerous community and business based organizations, including: officer of the Greater Miami Jewish Federation, treasurer of Aventura Turnberry Jewish Center, board of the Mount Sinai Medical Center Supporting Foundation and is a member of the Young President's Organization (YPO). In 2010, Matthew was appointed by the President of the Unites States to serve as a member of the United States Holocaust Memorial Council the board of the Holocaust Museum in Washington DC.
___________________________
Sara Schermer, Board Secretary
Sara Schermer was born and raised in Puerto Rico in a conservative Jewish family and grew up involved in Young Judaea and later in Haddassah. She owns a marketing and advertising consulting business with clients ranging from advertising agencies to hospital systems and non-profits. She is also a voice over actor. Sara has lived in Miami for 34 years and has been married to Rick for the past 29. Together they have three children: Mitchell (26), Jeffrey (23) and Jared (20). The family have been members at ATJC since 2008 where Sara participates yearly in the Purim Schpiel and is also active in the Yaya Sisterhood.
Fri, July 10 2020
18 Tammuz 5780
Executive Board
Joseph Braun
Noah Breakstone
Elliot Dornbusch
Bob Kopf
Fernando Levy-Hara
Oscar Wasserman
Board of Directors
Ronald Bakalarz
Neil M. Bernstein
Audrey Bornstein
Eme Chaikin
Wendy Ellison
Lauren Geduld
Jerome Hollo
Michael Landa
Alan Lips
Adam Lubkin
Roni Mauer
Jeffrey Oshinsky
Esther Peart
Marcy Resnik
Dr. Beny Rub
Rick Schermer
Gail Sonnenschein
Craig Storch
Stacy Studnik
Jodi Tartell
Amy Wildstein
Board of Trustees
Dr. Charles & Sara Bedzow
Dr. Allan* & Esther Feingold
Dr. Barry & Marcy * Resnik
Neil Bernstein & Dr. Julie Schwartzbard
Dr. Barry* & Judith Silverman
Senator Paul & Sandra Steinberg
Andrew & Dr. Silvia Stern
(*PAST PRESIDENT)
Fri, July 10 2020 18 Tammuz 5780